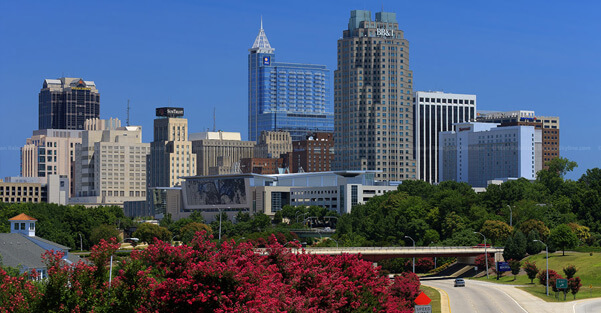 The capital city of North Carolina, Raleigh has ranked near the top of fastest growing cities in America for nearly a decade. It's no wonder that the city continues to grow, as the area is  home to more than 170 research and development companies. Raleigh, along with neighboring cities Durham and Chapel Hill, form the Research Triangle region, a center in the fields of high-tech and biotech research. The city boasts easy access to several world class universities; Duke University, the University of North Carolina, North Carolina State University, and Wake Forest University are all within minutes' drive of Raleigh. For these reasons, Raleigh placed 4th on Wallethub's list of most educated zip codes for 2016, and has earned the distinction of being home to the highest amount of PhDs in the country. The job market as a whole in Raleigh couldn't be better; Glassdoor recently rated Raleigh its "#1 Best City For Jobs" in its 2015 survey.
But it isn't just the tech industry that is driving Raleigh's growth; it's the quality of life and amenities as well. Raleigh has put a focus on its entertainment, and it shows, especially in the trendy areas of Fayetteville District, Moore Square, and Glenwood South, where you'll find restaurants and microbrews in abundance. Known as the "City of Oaks", the city boasts 9000 area of parkland for outdoor lovers. As the state capital, the city is home to the state of North Carolina's first class museums, such as the North Carolina Museum of Natural Sciences and the North Carolina Museum of Art, to name but a few.  And like the rest of North Carolina, the region enjoys a moderate climate with mild winters. The iconic coastal towns of Wilmington and Wrightsville Beach are accessible for a day trip, and if it's the mountains that are calling, you'll find the Blue Ridge Mountains a few hours' drive away.
For all these reasons, Raleigh is a relocation destination that is second to none. To obtain more information, click here to contact one of our relocation specialists.
RALEIGH'S TOP EMPLOYERS
Click below to begin your job search:
Main City Info:
Distance from Chicago, IL: 810 miles                          
Average Hi January — Raleigh: 50° / Chicago: 31°
Average Hi July — Raleigh: 90° / Chicago: 85°
Average Snowfall/Year — Raleigh: 6 in. / Chicago: 37 in.
Average Property Tax — Raleigh Metro: 0.95% / Chicago Metro: 2.50%
Sales Tax — Raleigh: 6.75% / Chicago: 10.25%
State Income Tax — NC: 5.75% / IL: 4.95%
Helpful Link:
www.visitraleigh.com
Neighborhoods / Towns to consider:
Apex, Cary, Morrisville