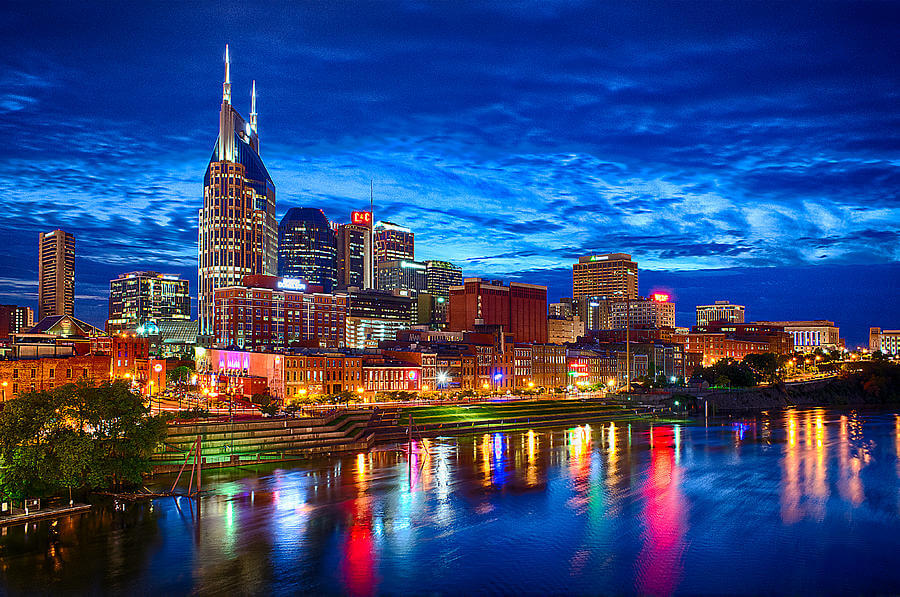 Known as "The Music City", Nashville has become one of the fastest growing cities in America and an increasingly popular relocation spot. Nashville is consistently ranked in the top ten best places to live and work in America, due to its reasonable cost of living, mild climate, and burgeoning local economy. If you're looking for a thriving city scene with a dash of Southern hospitality, Nashville might be the place for you.
Nashville more than lives up to its Music City nickname with 120-plus live music venues, featuring all genres of music. Combine its local music scene with its foodie reputation that has been saluted from The New York Times to Bon Appetit, and the result is a city that never sleeps. But Nashville isn't just known solely for its live music these days; the city is becoming known as a hot spot for technology start ups and numerous national companies call Nashville home, including Dollar General, Nissan, and Community Health Systems, to name but a few. Its secondary education is top-notch; Nashville is known as the "Athens of the South", with over 20 universities in the greater Nashville area. Simply put, it's the economic and cultural diversity of the Nashville area that has driven the city's explosive growth. But it's not just music, food, and tech startups behind Nashville's growth; it's the cost of living as well. Its median home price remains below national averages, and Tennessee is one of only six states with no state income tax. Combine these factors with the mild climate Nashville is known for, and Nashville is an excellent choice as a relocation destination.
To obtain more information, click here to contact one of our relocation specialists.
NASHVILLE'S TOP EMPLOYERS
Click below to begin your job search:
Main City Info
Distance from Chicago, IL : 470 miles
Average Hi January--Nashville 46/Chicago 31
Average Hi July–Nashville 89/Chicago 85
Average Snowfall/Year–Nashville 7 in. /Chicago 37 in.
Average Property Tax–Nashville 1%/Chicago 2.5%
Sales Tax–Nashville 9.25%/Chicago 10%                                                                                   State Income Tax–TN 0%/ IL 4.95%
Helpful Links:
Neighborhoods/Town to Consider:
Brentwood, Franklin, Mt. Juliet, Smyrna, Green Hills