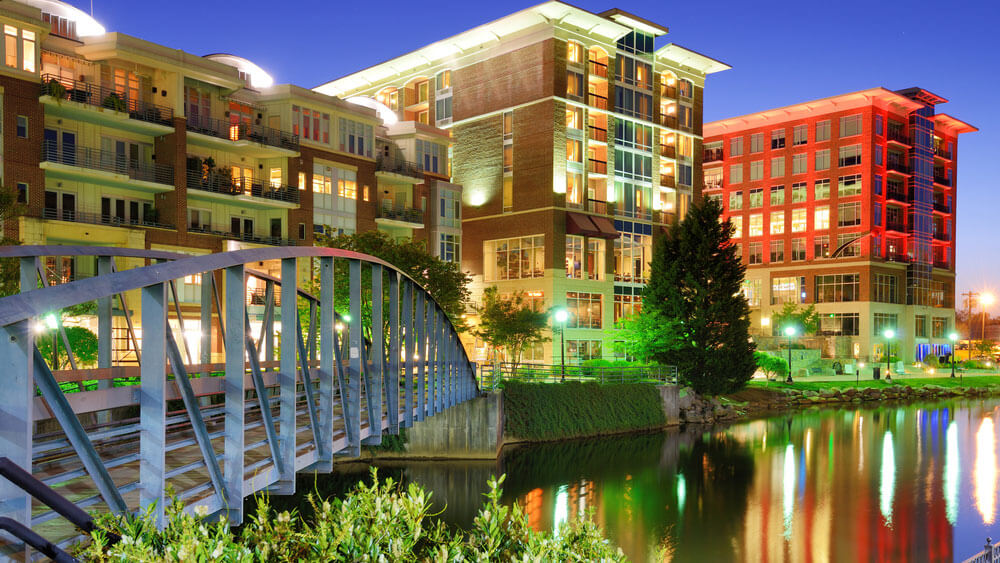 As a warm southern community with a diverse economy and a vibrant urban scene, Greenville, SC is consistently ranked one of the nation's top places to live. It offers the benefit of a larger city yet with a small town feel, as well as a low cost of living, mild climate, and exceptional quality of life. Its mix of traditional southern charm, stunning natural beauty and contemporary downtown vibe has made the area an increasingly popular relocation destination.
If you're looking for a beautiful walkable downtown, with upscale shops, international flavors, and ample greenspace together, look no further than downtown Greenville. The city has become the national model for urban renewal, as its old industrial core has seen an incredible revitalization over the past few decades. It is now home to over 130 retail shops and 75 restaurants in a one square mile area. The central jewel of Greenville's downtown is Falls Park on the Reedy, described by many as "an oasis within the city" with trails, landscaped gardens, scenic overlooks, and waterfalls. Forbes Magazine recently ranked Greenville's downtown one of "America's Ten Best", and the New York Times has referred to Greenville as "a national model for a pedestrian-friendly city center."
Nestled in the foothills of the Blue Ridge mountains, Greenville provides ample opportunities for the outdoor enthusiast. The Swamp Rabbit Trail, a 17.5 mile greenway, winds along the Reedy River and connects Greenville's extensive park system with the rest of the city, drawing cyclists from miles around. Within a hour's drive of Greenville, you'll find no less than 12 South Carolina state parks. Drive a mere 45 minutes north and experience the mountainous wonders of Lake Joccassee, which has earned a spot on National Geographic's "50 Last Great Places in the World" list. Three hours southwest are the beaches of Kiawah Island and South Carolina, both world class tourist destinations of their own. With a multitude of leisure activities like these within a short drive from town, Greenville is an location from which to pursue an outdoor lifestyle.
For all of these reasons, Greenville is worth checking out as a relocation destination. To obtain more information, click here to contact one of our relocation specialists.
GREENVILLE'S TOP EMPLOYERS
Click below to begin your job search:
MAIN CITY INFO
Statistics:
Distance from Chicago, IL: 705 miles
Average Hi January — Greenville: 50° / Chicago: 31°
Average Hi July — Greenville: 89° / Chicago: 85°
Average Snowfall/Year — Greenville: 2 in. / Chicago: 37 in.
Average Property Tax — Greenville: 0.68% / Chicago: 2.50%
Sales Tax — Greenville: 6.00% / Chicago: 10.25%
State Income Tax — SC: 3-7% / IL: 4.95%
Helpful Links:
www.greenvillesc.gov/184/newcomers
Neighborhoods / Towns to consider:
Mauldin, Greer, North Main, Simpsonville