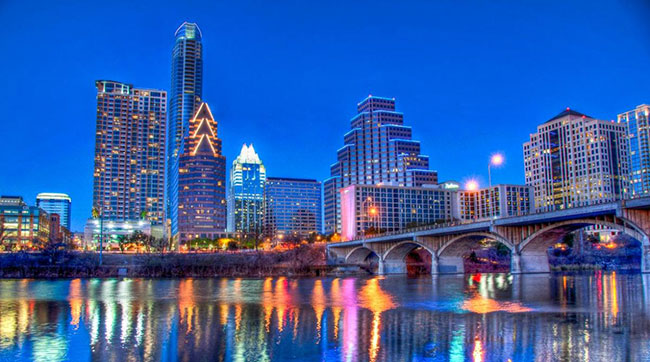 The capital of the Lone Star State, Austin has seen explosive growth in the last decade and shows no signs of slowing down. As a relocation destination, Austin offers many advantages, including great weather, a vibrant local economy, and a trendy, urban vibe that has become nationally renowned.
It's no secret that the Austin economy is booming in the last decade. The city recently ranked #1 in CNBC's "Best Places to Start a Business" survey for 2016 due to its tax and regulatory climate, workforce strength, access to capital and the cost of living. Nowhere is this more true than in the tech and software development field, as Austin recently ranked #2 in the nation for tech startup jobs for 2016. Increasingly, Austin is becoming known as the "new Silicon Valley," with many of the same job opportunities offered in the Bay Area but with a far lower cost of doing business. If job opportunities are a main factor for you in a relocation destination, there's no place with as many professional opportunities than Austin.
When it comes to downtown Austin, you'll find a bustling city scene with a culture that is all its own. The mantra of Austin remains "Keep Austin Weird", as many locals pride themselves on the unique artsy/ hipster culture that remains a staple of the city. Live music can be found nearly everywhere in Austin, and the city bills itself as "The Live Music Capital of the World" due its more than 250 live music venues scattered throughout the city. There are few cities than can simultaneously lay claim to being a foodie paradise, a music mecca, and the home to the largest urban bat colony in the world, but Austin offers all of the above and more in its vibrant downtown scene.
For more information about relocating to Austin, click here.
AUSTIN'S TOP EMPLOYERS
MAIN CITY INFO
Statistics:
Distance from Chicago, IL: 1,160 miles
Average Hi January — Austin: 62° / Chicago: 31°
Average Hi July — Austin: 92° / Chicago: 85°
Average Snowfall/Year — Austin: 1 in. / Chicago: 37 in.
Average Property Tax — Austin: 2.04% / Chicago: 2.50%
Sales Tax — Austin: 8.25% / Chicago: 10.25%
State Income Tax — TX: 0.00% / IL: 4.95%
Helpful Links:
Neighborhoods / Towns to consider:
Round Rock, Tarrytown, Rollingwood