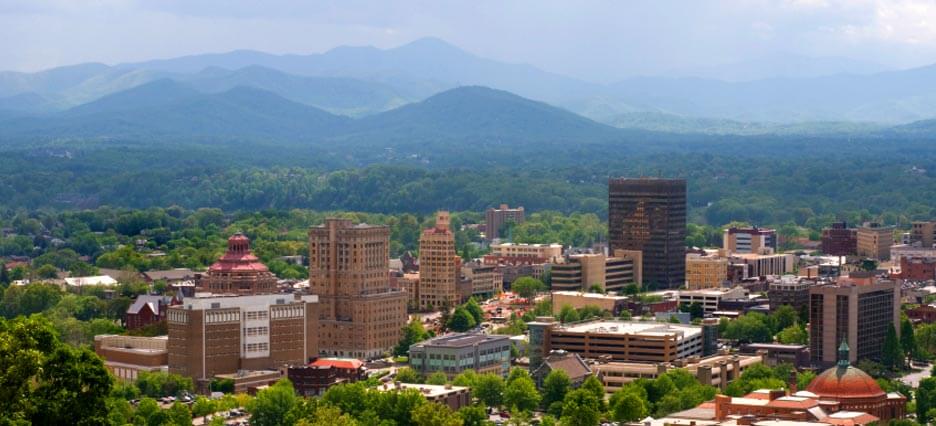 Named by Lonely Planet as its #1 "Best in the US" destination for 2017, Asheville is an artists' and outdoorsmans' delight. The city is known for its trendy urban vibe, independent mindset and free spirits who dwell there, and it has become nationally known as a haven for creatives, musicians, and young entrepreneurs. In Asheville, you can be entertained by a street mime, browse the galleries of local artists, play drums in the weekly drum circle, and enjoy a farm-to-table restaurant, all in a single evening. WHETHER it's music, the great outdoors or homegrown food and beer, 
Asheville
 takes its pleasures seriously.
Conveniently located off the Blue Ridge Parkway at the foot of the Appalachian mountains, it's hard to beat the natural beauty of Asheville. Eco-adventures abound in the area, including zip lines, rafting, and kayaking down the French Broad River, to name but a few. The town is a hiker's paradise, with Mount Pisgah, Sam Knob and numerous waterfalls all within an hour's drive of the city.   As the rest of North Carolina, Asheville enjoys a mild climate, yet with the experience of all four seasons.
For the musically inclined, there's no better place to live than Asheville. Live music seems to be on every street corner of the city, Bring your guitar to any Asheville park in the summer, and an impromptu jam session is sure to follow.  There's the Friday night drum circle at Pritchard Park, Saturday night's Shindig on the Green, and numerous local minstrels that perform at the myriad venues throughout the city. If local cuisine is more of your thing, you'll find culinary delights for every appetite in Asheville. And when it comes to beer, the city has become known as the country's unofficial capital of beer, boasting more local breweries than any city in the USA.
For all of these reasons, it's no wonder that Asheville was recently voted "America's Happiest City" by Self Magazine. To obtain more information, click here to contact one of our relocation specialists.
ASHEVILLE'S TOP EMPLOYERS
Statistics:
Distance from Chicago, IL: 660 miles
Average Hi January — Asheville: 47° / Chicago: 31°
Average Hi July — Asheville: 85° / Chicago: 85°
Average Snowfall/Year — Asheville: 13 in. / Chicago: 37 in.
Average Property Tax — Asheville: 0.7% / Chicago: 2.50%
Sales Tax — Asheville: 7.00% / Chicago: 10.25%
State Income Tax — NC: 5.75% / IL: 4.95%
Helpful Link:
Neighborhoods/Towns to consider:
Weaverville, Woodfin, Hendersonville